Join Us at the After Party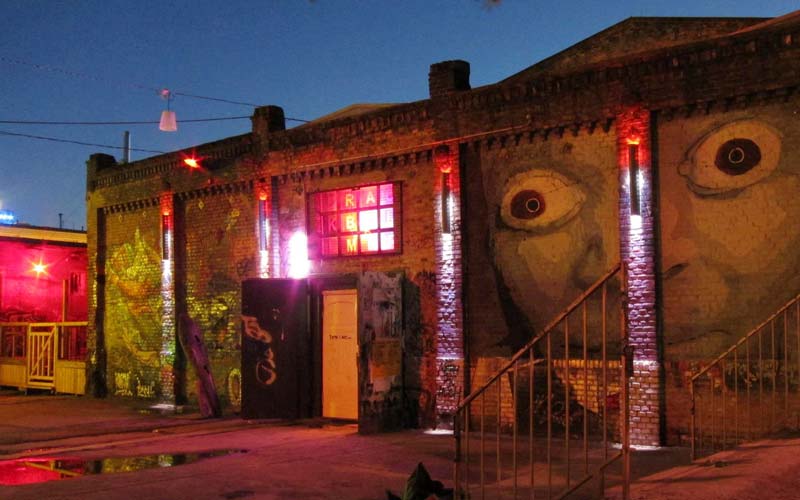 We're going to close the conference day at the Bar "Crack Bellmer" in Berlin-Friedrichshain. There are two outside areas which will give you enough room to talk to your new and old friends you met at our conference. And if you fancy a dance: There will be live DJs inside at 11pm. You're welcome to bring along your friends as well, no matter if they attended Reject.JS or not. Doors open at 8pm. The non-alcoholic and alcoholic drinks are on us until the budget is gone. We'll let you know as soon as this is the case.
How To Get There
The bar is located on the "R.A.W.-Gelände" – Revaler Straße 99, 10245 Berlin.
Routes
We've prepared proper routing links for you. Pick your favorite routing service and your favorite way of transportation and get all the instructions you need:
Public transport
The easiest way is to go Ostbahnhof, which is very close to our venue. From there on hop on any S-Bahn that goes to Warschauer Straße (S5, S7, S75) and get off there. Go upstairs onto the bridge, turn right and once you see the Revaler Str. turn right there as well. After about 300m you'll see the bar on the right side.
Walk
If you fancy a walk after our conference you're lucky: The bar is just 2.3km away from the venue and it will take you about 30 minutes. See the routes for a detailled plan.
Taxi
It's just a 5 minute ride with a taxi and shouldn't cost you more than 10€. Share a taxi with a few people and split the fare. Cheap and effective! You can either use the myTaxi app or try calling one of these numbers: